A tart is a sweet or savory dish with shallow sides and only a bottom crust. Tart crusts are usually made from pastry dough: traditionally flour, unsalted butter, cold water, and sometimes sugar. The goal of forming this tart crust  is a firm, crumbly crust to protect the filling.
Tarts are baked in a pan with a removable bottom, or in pastry ring on top of a baking sheet so that it can be un-molded before serving.
The difference between Pie and Tart
While pies and tarts are two distinct things, they are close enough cousins that we will accept them both. A galette is another cousin who is invited to party. They are all baked desserts, wrapped in crust and filled with sweetness.
A pie is a sweet or savory dish with a crust and a filling. The sides of a pie dish or pan are sloped.
It can have a just a bottom, just a top, or both a bottom and a top crust. A pie crust is traditionally made of flour, salt, cold water, and lard (or shortening) but many pie crust recipes use a combination of fats such as butter, lard, or vegetable shortening, or just butter.
A galette is a round pastry wrapped and fruit filled dessert that is baked on a baking sheet. They are very easy to make because they are virtually formless.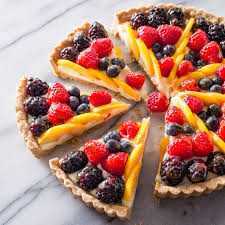 What is the filling in a fruit tart?
The classic filling for a fruit tart is pastry cream, or creme patisserie, which is a rich, thick custard made from a mixture of milk, vanilla, eggs, sugar, flour and cornstarch (a thickener) that is cooked on the stove.